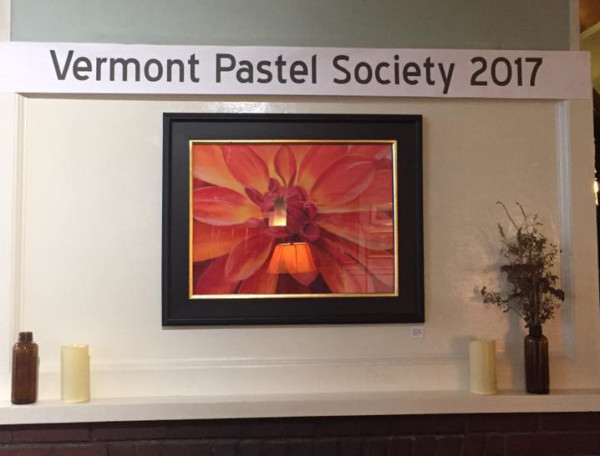 November 3, 2017
The 2017 Vermont Pastel Society juried show features 30 paintings by 21 artists from across vast distances of our VPS membership. There were several members in attendance at the reception on Friday, November 3rd from 5-7PM and your support is truly appreciated. The show will continue through December 27th. Two paintings have already sold, Autumn Back Road by Patti Braun and Lace and Clover by Kathrena Ravenhorst Adams. Congratulations to both of you!
First, we would like to thank The Coolidge Hotel and Peggy Adams for providing the beautiful space to hang our beautiful work, for their promotional efforts, and for countless other acts of professionalism. Thank you to the selected jurors Claudia Post and Daryl Storrs who spent several days completing an incredibly difficult job of narrowing down 69 paintings by 36 different artists into just 30 final selections for our show. A big thank you to Doug Dawson for his equally difficult job of judging all of the fine artwork and narrowing his selection to just 5 top paintings. Thank you to the VPS volunteers who helped transport artwork for other members, offered to help hang work and brought refreshments for the event. Your dedication to your fellow members and this society are what make it truly exceptional. Finally, thank you to the Cape Cod Pastel Society for their continued support and Vermont pastel master, Mallory Lake, for one of her many sets of pastels as her bequest to the VPS, allowing us to establish an on-going Mallory Lake Pastel Award for future VPS juries shows.
The following are the selected winners of the 2017 Vermont Pastel Society Juried Show and comments from the judge, Doug Dawson.
First Place: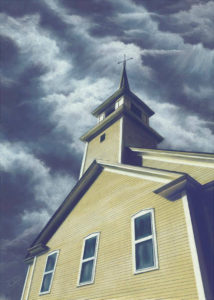 Anna Leeds: "Here is the Steeple"
This is a very compelling painting. It intrigued me because the technique in the sky is noticeably different from the technique used in the building. Besides that, the technique in the sky is about half the painting. Generally, it is best to avoid paintings that are half one thing and half another. However, in this case it works really well.
Second Place:
Christine Kassow: "Empty"
I responded to the feeling in this painting. That feeling or mood is a product of the subject, as well as the unifying cool color. ~ Doug Dawson
Third Place:
Matthew Peake: "Overlook #30"
The figures are massed with the dark rectangles and each of these masses is uniquely different in size and contour. This creates compelling variety. ~ Doug Dawson
Cape Cod Pastel Society Award:
Judy Albright: "Open to Everything"
I like the simple direct strokes and the way the artist exploited the surface quality of the board. ~ Doug Dawson
Mallory Lake Memorial Award:
Kathrena Ravenhorst-Adams: "Lace & Clover"
There is a great unpredictable edge separating the large blue and green shapes. Each of the small light flowers are uniquely different in size and contour, along with the negative shapes that separate them in an unpredictable manner. ~ Doug Dawson
=======================================================
Judging is not the same as critiquing. The comments above are the thoughts I had after I selected the winners. When judging a show, I simply try to respond to the work and select the pieces I like best. I try to understand my choices only after the fact. ~ Doug Dawson
Susannah Colby
---
News on the 2017 VPS Juried Exhibit at the Coolidge Hotel
Congratulations to the following members for being selected by a panel of jurors for the 2017 Vermont Pastel Society Exhibit at The Coolidge Hotel in White River Junction, Vermont. Thirty Paintings will be on display from September, 17th through December 28th with a reception on Friday, November 3rd from 5-7PM. We hope to see you there.
Judy Albright
Patti Braun
Margaret Brogan
Diane Bruns
Susannah Colby
Carol Corliss
Kathy Detzer
Carol Eberlein
Cindy Griffith
Lesley Heathcote
Cristine Kossow
Anne Leeds
Pat Mcpike
Matthew Peake
Kathrena Ravenhorst-Adams
Norma Rollet
Michael Shafer
Maggie F. Smith
Carol Stephens
Katrina Thorstensen
Ann Wickham
Kindly,
Susannah Colby
Exhibitions – Vermont Pastel Society
2017 Annual Member's Exhibition at Southern Vermont Art Center
On behalf of the Vermont Pastel Society I want to thank all the artists who made Members Exhibition at the Southern Vermont Art Center a success. Thank you to the staff at SVAC who once again provided an amazing space for our exhibition. There were several members in attendance at the reception on May 28th and three board members awarded prizes in nine nontraditional categories. A big thank you to Robert Carsten who took the time to carefully judge the show and award each artist. The show has over 40 paintings representing several landscapes, still life and portraits and will be on display through
July 8th
. Below are the comments from Robert Carsten for each category:
Vermont Pastel Society Members' Exhibition-Southern Vermont Arts Center
May-July 2017
I thank all of the participating members of VPS for the privilege of judging the members exhibition. This exhibit is filled to the brim with beautiful examples of what can be achieved today with our amazing, ages-old painting medium we proudly call pastel!
— Judge of Awards, Robert Carsten, PSA-mp, IAPS-mc
Results:
Most Luminous Landscape:
Maggie Smith, The View Across the Lake
Judge's comment:
The suffusion of atmospheric light superbly handled by this artist, permeating all of the elements of the painting, resulting in an overall glowing effect. Hence, the masterfully handled atmospheric perspective creates luminosity throughout.
Most Fluid Waterscape:
Angela Arkway, Dorset Quarry, VT
Judge's comment:
My hat's off for how this artist skillfully portrayed the depth, surface, and especially the transparency of the water near the distant shoreline in this well-organized composition. Sensitive handling of color saturation and value contribute to the absolutely stunning effect of this land/waterscape. The paint quality, mood and subject combine to make this a truly sensational painting!
Most Lively Still Life:
Leslie Heathcote, Snowy Owl
Judge's comment:
While not a traditional still life, this painting contains the essential elements that define this genre: close-up object or objects against a background, generally compressing space. What won me over is the manner in which this artist depicted a white "object" without using much if any pure white. This convincingly realistic representation is a lesson on color temperature in both the lights and darkened background.
Most Figuratively Speaking:
Matthew Peake, Overlook #31 Saguaro with Dance
Judge's comment:
The unusual bird's eye view, limited palette organized around the hue of its central object/subject, as well as the positioning and postures of the figure create a mysterious narrative, open to the viewer's interpretation. Astute planning and competence are evident throughout.
Going Gaga with Color:
Judy Greenwald, Solitude
Judge's comment:
Here is a painting that deftly shows daring color that is refined and utilized to create an overall unified, coloristic effect. Everywhere the color changes and the transitions are seamless. The balance of light effect and sensational color is exemplary.
The Yin and Yang of Light and Dark
Deedee Jones, After the Storm
Judge's comment:
I love the way the artist used a quantity of dark values in order to establish a convincingly glowing quality to the sunlight and sky in this painting. The diagonals of land and clouds in the design lead me into compositional depth to the luminous sun and its reflection – superbly painted!
Seriously, Do a Series:
Pat McPike, Sunrise on the Seine
Judge's comment:
I find that there is a poetic quality to this image, a tonal quality that is very appealing. The elements that comprise the composition are painted in a distilled, more universal manner, the artist taking care not to overly depict any detail. I think that this imagery, even if derived from diverse locals, would comprise a stunning collection in series.
Tell Me More Award:
Kathrena Ravenhorst Adams, Summer Barns
Judge's comment:
This is a lovely composition, quite well-painted. The artist has a good understanding of composition and the use of tone to move the eye throughout the composition. I believe that this artist would further benefit from expert critique services, hence this award. Sometimes those opinions offered can provide insights that allow an artist to move forward; to transition from good painting to great painting.
I'm Being Framed:
Susannah Colby, Stormy Night
Judge's comment:
I love the sense of activity and movement in the clouds and reflected in the water — all in contrast with the stillness of the foreground's beach and boats. Additionally, the artist creates great depth by use of a strong diagonal which is masterfully counterpointed by restful horizontals and near vertical elements of masts. Personally, as a juror and artist, I feel that strongly colored mats are not beneficial in public displays. Some shows and galleries advisee against their use, preferring white or off-white matting so as relate better to other works on display. For this reason, I am awarding this finelydone painting the framing award for a future work.
Sincerely, Susannah Colby
susannahcolbyfineart@gmail.com