Lyn Asselta Workshop – March 2022
2-day Virtual Workshop
LYN ASSELTA
PSA-MP, IAPS-EP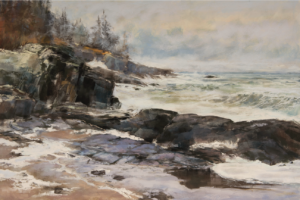 The "Why" of Painting
To know "how" to create a painting, it's important to know "why" you want to make that painting. Most of your painting process can be determined by answering that simple question.
This 2-day virtual workshop will explore the way your intent can help shape your paintings and allow your own unique voice to come through.
This workshop will consist of demos, group discussions, and painting time daily, with an additional "casual critique" for the group on the first evening.
ARTIST'S STATEMENT
How can I explain to you what it feels like to stand in a forest and imagine that silence is a living thing, breathing between the leaves and the sunlight?  How can I explain the way sea foam skitters and catches amongst slippery, wet rocks at the ocean's edge during a winter storm?  Words aren't always adequate, so I feel compelled to paint those feelings. The challenge of painting what I feel is what continues to interest me most.
 DO NOT MISS THIS OPPORTUNITY
 VPS is offering you a Lyn Asselta's on-line workshop for cost ($215).  The workshop will be held during the middle of Winter when many people are starting to get "cabin fever" or already have "pandemic weariness".  Attending an on-line workshop might be a nice relief.  This workshop will be extremely organized and professional.  There will be demos, individual contact with the artist through break-out rooms, and critiques.  A facilitator has been hired to send out the Zoom and Padlet links (the app Lyn will be using for critiques.  No one has to download the app, they simply will use a link that she will be providing.)  The facilitator will be monitoring the chat feature, break-out rooms, and assist in all technical problems so as not to disrupt the lesson.  A mandatory pre-workshop session will be held by the facilitator, so everyone knows how to navigate the screens.
 DATES:
 MANDATORY:  March 16th 6:00 – 7:30 pm – pre-workshop "technology" session
DAY 1: Friday, March 18, 2022 – 9:00 – 4:00 EST — then a mandatory evening critique session from 6:00 – 7:30 pm
DAY 2: Saturday, March 19, 2022 – 9:00 – 4:00 EST
 COST:  $215 for members
$250 for non-members
 MAXIMUM ATTENDEES:  14
Please contact Linda Masten at [email protected] to sign up and get your name on the list.  The full amount of the check must be mailed within 5 days to Linda Masten, 497 Fox Hill Road, Bennington, VT 05201 to lock in your registration.  If more than 14 people sign up there will be a lottery.  If needed, a lottery will be held on Monday, February 21, 2022.  If you are not chosen in the lottery your check will be sent back to you.