ALAIN PICARD LANDSCAPE AND PORTRAIT WORKSHOP WEEK 8/8-8/12, 2022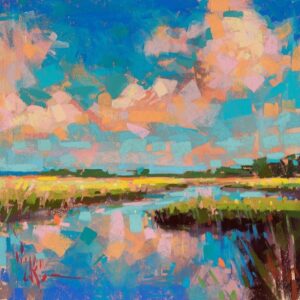 Alain J Picard will be giving 2 separate in person workshops this summer! Take one or both.
Because of anticipated large demand, if you are interested in registering, send me an email indicating your interest plus the registration form and a check (payable to Vermont Pastel Society) for the full amount to arrive by March 15, to:
Joyce Kahn
28 Liberty Street
Montpelier, VT 05602
If more than 18 register for either workshop, there will be a lottery of VPS members first and a waitlist following for VPS members and non-members. Checks will be returned or destroyed for those who do not get in on the first draw.
Refund only if your space can be filled.
There are a limited number of partial scholarships available.
Questions can be sent to me, Joyce Kahn, [email protected]
The Painterly Landscape three day workshop: To be held outdoors as weather permits.
Plein air plus studio
Date: August 8, 9,10, 2022
Place: 4 Corners Schoolhouse, East Montpelier, VT
Cost: members- $ 450    Non-members-$500
Workshop description:
Loosen up your landscapes using the painterly approach.  Learn to simplify complex scenes into clear shapes, values, and edges. Organize shapes into strong design and color combinations using bold, expressive marks to interpret your environment for that lush painterly look. Learn innovative approaches to color through the use of underpainting techniques and interpretive color strategies that will break you out of your routine.
Each morning, Alain will demonstrate a painterly approach to the landscape from start to finish, focusing on a unique subject and approach every day. Students will work from their own reference materials, beginning with morning exercises to loosen up their work and learn techniques to simplify the subject. Students will progress to loosely finish landscape paintings by the end of the day.  A constructive and encouraging group critique will wrap up our three days together.
What will students learn?
How to paint with more confidence
How to design dynamic compositions
How do you simplify complex scenes into a pattern of clear shapes
How to transfer some nail sketches to your surface in the correct proportion
How to loosen up your strokes and make bold marks of color
How to simplify and see value and interpret color choices
Underpainting techniques that will activate your scene
And lots more!
Class Size maximum is 18
Supply list: https://www.picardstudio.com/supplies
Workshop schedule:
Studio workshop from 9:30 AM to 4:30 PM
Lunch from 12:30 to 1:30 daily
Constructive group critique from 3:30 to 4:30 PM on Wednesday, August 10, 2022
The Painterly Portrait Two Day Workshop
Date: August 11 and 12, 2022
Place:  4 Corners School House, East Montpelier, Vermont
Cost: Members -$310. Nonmembers-$360
Workshop description:
Learn to develop life-like portrait paintings, whether working from the live model or photographic references. We'll cover all the techniques necessary to create stunning portraits in pastel, practicing from the live model as well as our own references.  We will light, pose, and photograph the model together, developing our own reference materials, then learn to design the portrait to create life-like skin tones and apply the painterly approach to portraiture.  We'll also cover techniques for refining the portrait.  Alain understands that portraits can be intimidating and has developed an approach that creates a relaxed and encouraging learning environment for all involved.
Alain will demonstrate each morning based on the day's theme (9 to 11 AM). Students will then work from the live model on day one and from their own reference materials on day two to develop lifelike portraits, with generous personalized instruction at their easels. The workshop will conclude with an encouraging group to critique on the last day.
What will students learn?
How to work from a live model with more confidence
How do use reference photographs to create lifelike portraits
How to block in the portrait with simple shapes
How to work in a painterly style by making bold marks
Underpainting techniques for portraiture
How to see value, color, and color intensity to identify skin tones
Create dynamic compositions
How to transfer your sketch to the surface in the correct scale and proportion
How to refine and blend without overworking
How to create exciting backgrounds in your portraits
And lots more!
Supply list: https://www.picardstudio.com/supplies
Workshop schedule:
Studio Workshop from 9:30 AM to 4:30 PM
Lunch from 12 to 1:00 PM daily
Constructive group critique from 3:30 to 4:30 on Friday, August 11, 2022
About the artist:
Alain J Picard is an award-winning artist, instructor, author and speaker. His acclaimed pastel and oil paintings have been exhibited throughout the US, Europe, China and the UK. Alain travels internationally as an art instructor, demonstrator, speaker and artistic advocate for the vulnerable. Alain's work and writing have been featured on numerous occasions and in such publications as The Artist's Magazine, The Pastel Journal,and Practiques des Arts. In an effort to share his passion for art, Alain has written three instructional books,  "Mastering Pastel, and "Beginning Drawing," and stars in a growing collection of instructional art videos.  Alan has lectured and demonstrated for the Metropolitan Museum of Art, The National Arts Club in New York City, Vose Galleries in Boston, MA, the IAPS Convention in Albuquerque, New Mexico, and the Biennial international Pastel Art Exhibition at Ming Gallery in Suzhou, China. Alan has garnered top awards in esteemed exhibitions including the Pastel Society Of Americ, the American Artists Professional  League, Hudson Valley Art Association , The Portrait Society of America, and the International  Association of Pastel Societies (IAPS).  He is a sought after portrait artist and landscape painter and a judge and jury of international exhibitions.
---
Registration Form: please fill out and mail with your check (payable to Vermont Pastel Society) to arrive by March 15 to:
Joyce Kahn
28 Liberty Street
Montpelier, VT 05602
Registration Form
Workshop Name :
5-Day Workshop: members-$700. Nonmembers-$800
3-Day Landscape Workshop: members-$450. Nonmembers-$500
2-Day Portrait Workshop:       members- $310. Nonmembers-$360
Name:
Address:
Email:
Phone:
Member:     Yes         No
Check enclosed for $