2019 Annual Juried Exhibit
Friday, May 17 through Saturday, July 6, 2019
50 Randolph Avenue, Randolph, VT 05060
To view the selections for the 2019 Juried Exhibit, please click on the link below:
____________________________________________________________________
A reception and awards ceremony was held Saturday, May 18
Many thanks to VPS Upper Valley for refreshments and to
Laura Winn Kane and Susannah Colby for organizing the event.
Best in Show
Cristine Kossow, VPS Midstate, Expectant Mothers II"
Second Place
Maggie Smith – VPS SouthEast, "The Back Road"
Third Place
Wendy Soliday – VPS Central, "Brief and Spectacular
Pastel Painters Society of Cape Cod Award
Judy Albright – VPS Midstate, "Spring Tonic"
Mallory Lake Memorial Award
Mark Grasso – VPS SouthWest, "Morning Curl"
Saturday, July 6: Artwork pick up from gallery between 2-4pm
---
2018 Annual Juried Show
Hello VPS Members!
The 2018 Annual Vermont Pastel Society Juried Show was held at the Laumeister Art Center in Bennington, VT and the reception and awards ceremony took place on Saturday, September 29thfrom 2-4 p.m. The show will be open to the public September 29th to November 17th.
Please take a moment to fill out the survey about this year's show. We would like all members to respond, even if you did not attend: https://goo.gl/forms/Dk6fyr07WE833uVG3
Our judge, Christine Labich carefully and thoughtfully selected artwork in the show to award the following prizes. She had this to say to the members:
Congratulations to all of the participants in the Vermont Pastel Society's 2018 Annual Show! You have skillfully displayed a wide range of techniques, compositional approaches, and subjects, showing the depth and possibilities of the medium. It is wonderful to see pastel used in these different ways, and with great success. There are many paintings in this show that deserve recognition for their experimentation, their fine command of the materials, or their sensitivity to mood, color, and mark. I encourage you all to keep up the good work and keep exploring the possibilities of pastel.
Best in Show
Overlook #36, Matthew Peake
This painting is fun, and engages both the viewer's eye and mind. While the eye delights in the juxtaposition of colored shapes—no two the same, and yet expressing a compelling overall pattern—the mind is drawn into imagining the narrative of these figures and shadows. Technical, imaginative, and bold.
Second Place
All the Tea in China, Judy Albright
A compelling combination of precise rendering and freedom. The texture of the support is used in a skillful way to add interest and a playful sense to a beautifully drawn subject.
Third Place
New Kid on the Block, Laura Winn Kane
A narrow tonal range is used wonderfully here. The lively surface keeps the eye moving throughout the painting, and manages to create both a decorative flat composition, and a sense of space (albeit a crowded one!).
Pastel Painters of Cape Cod Award
Cape Evening Light, Katrina Thorstensen
A lovely rendering of light and space. The diversity of effective and confident mark-making creates atmosphere and texture within the scene.
Mallory Lake Memorial
Two Pears, Maggie F. Smith
This small painting creates an architectural, moody atmosphere reminiscent of Mallory Lake's work, even though it isn't a landscape. Deceptively simple, there are unexpected risks taken in the composition and color choice that make it a pleasure.
---
June 22-July 28, 2018: VPS Member Exhibition at The Chaffee Art Center, Rutland, VT.
Amid the arpeggios and trills of the violin and piano, with floral arrangements on the many table tops, and hors d'oeuvres befitting a presidential banquet, the 2018 Vermont Pastel Society's Members' Exhibition reception took place at the Chaffee Art Center in Rutland, Vermont on Saturday, June 23 from 2 to 6 p.m.
Hosted by executive director, Jim Boughton and his capable staff, the Members Exhibition was attended by scores of viewers–artists and art-lovers. An awards ceremony took place at 3 p.m., with the four attending board members reading off the winners in ten creatively-crafted categories, interpreted by respected Rutland area artist William Ramage, who stepped in as our judge when the original judge had an unexpected conflict.
Special thanks to Susanna Colby and Louise Kenney who worked out all the many details of this fantastic show and reception, and to VPS MidState who coordinated the painting drop offs, the refreshments and reception, and were there to welcome the viewers, and to all the VPS artists who submitted paintings to this memorable 2018 Members' Exhibition.
A list of awards follows:
Most luminous Landscape:
Barbara Hageman Sarvis – Trumbull Farm
I couldn't help but respond to the qualities of light in "Trumbull Farm" that seemed reminiscent of Claude Monet's luminous landscape such as the "Haystack Series" and his "River Seine" paintings. ~ William Ramage
Most Fluid Waterscape:
Susannah Colby – Salisbury Sunset
This extraordinary painting is so alive with color that is both fluid and brilliant that my immediate response referenced JMW Turner, who might be art history's most fluid waterscape painter. ~ William Ramage
Most Lively Still Life:
Shirley Thompson – Summer Treasure
What more can be said, this painting is an all-out colorful barrage of flowers, vegetables, bees, butterflies and beautiful color flying all over the surface of the painting. Lively is putting it mildly. Thank goodness for the little mouse, a temporary respite for the eye. ~ William Ramage
Most Figuratively Speaking:
Shelli DuBoff – Mother and Child
A truly stunning rendition of the age tested image, from Giotto to Mary Cassatt, of a mother and child. I think Shelli's painting is every bit as engaging, visually and emotionally, as any mother and child painting I've ever seen. ~ William Ramage
Going Gaga with Color:
Louise Kenney – Abstract Spring
"Abstract Spring" is such an appropriate title for this delicate expression of colorful bands of greens and blues offset by a delightful band of pink that brings to mind the feelings, the sights and even the smell of a landscape coming back to life.
The Ying and Yang of Light and Dark:
Deedee Jones – Harbor Lights
This is a fantastic example of a dark foreground and an extraordinary luminous sky. It is a beautiful painting that reminds me of the many painting of Claude Lorrain's sunsets where dark fore-grounds (often harbors) are silhouetted by a dazzlingly bright sunset. ~ William Ramage
Seriously, do a Series
Matthew Peake – Overlook #35 in Concert
This is a truly interesting composition of a circle created by the four musicians in a square (the format) offset by those striking red diagonal lines, the middle one passing from corner to corner causing twelve triangles diminishing to the opposite corners. I can't say that this was Mathew's
intention, but whether intentional or serendipitous, it is a brilliant composition involving the three fundamental shapes, the square, the circle, and the triangle that should be explored in a series. Did I neglect to mention the marvelous fore-shortening, reminiscing of Mantegna's "Dead Christ" or his "Oculus." ~ William Ramage
Tell me More:
Linda Kiniry – Late Night
Simply put, this painting wants a corresponding narrative, a story of the character working late at night in what appears to be an urban diner. It reminds me of Edward Hopper's "Night Hawks," another painting that wants to tell me a story. ~ William Ramage
The Frame Makes It:
Athenia Schinto – Etudes
This category while applying to Athena's framing of a quartet of paintings in a single frame might be an appropriate category, it doesn't do justice to these four beautiful little gems. They are wonderful pastel studies that could very well be etudes used by Athena to hone her
technical skills. An etude usually refers to musical compositions for musicians to practice and develop their technical skills . . . Chopin wrote twenty-seven of these compositions and I believe Bach wrote sixteen. ~ William Ramage
The Judges Choice:
Judy Albright – My Happy Place
I made up this category because Judy's painting is just too wonderful to be over-looked because it is not a good match for any of the categories I was provided. It is a beautiful still life that has the feel of a Vermeer. The cast of the gentle blue light though out the painting, the exquisite rendering of the lemons, the delicate shadowing of the white napkin draped over the table, and the subtle reflective surface of the blue bowl gives this painting a sense of serenity that could be anybody's "Happy place." I love this painting and its title. ~ William Ramage
---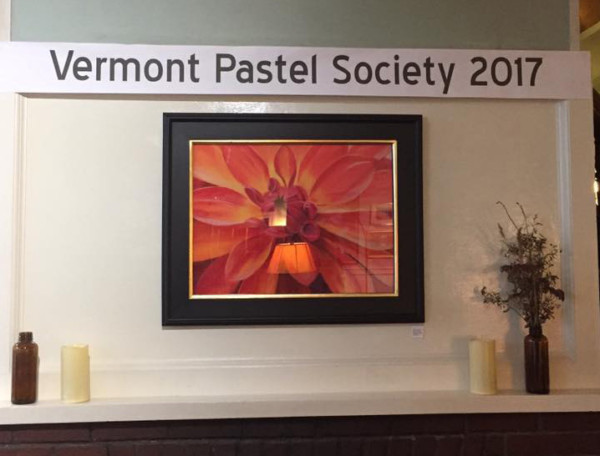 November 3, 2017
The 2017 Vermont Pastel Society juried show features 30 paintings by 21 artists from across vast distances of our VPS membership. There were several members in attendance at the reception on Friday, November 3rd from 5-7PM and your support is truly appreciated. The show will continue through December 27th. Two paintings have already sold, Autumn Back Road by Patti Braun and Lace and Clover by Kathrena Ravenhorst Adams. Congratulations to both of you!
First, we would like to thank The Coolidge Hotel and Peggy Adams for providing the beautiful space to hang our beautiful work, for their promotional efforts, and for countless other acts of professionalism. Thank you to the selected jurors Claudia Post and Daryl Storrs who spent several days completing an incredibly difficult job of narrowing down 69 paintings by 36 different artists into just 30 final selections for our show. A big thank you to Doug Dawson for his equally difficult job of judging all of the fine artwork and narrowing his selection to just 5 top paintings. Thank you to the VPS volunteers who helped transport artwork for other members, offered to help hang work and brought refreshments for the event. Your dedication to your fellow members and this society are what make it truly exceptional. Finally, thank you to the Cape Cod Pastel Society for their continued support and Vermont pastel master, Mallory Lake, for one of her many sets of pastels as her bequest to the VPS, allowing us to establish an on-going Mallory Lake Pastel Award for future VPS juries shows.
The following are the selected winners of the 2017 Vermont Pastel Society Juried Show and comments from the judge, Doug Dawson.
First Place: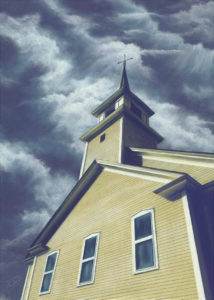 Anna Leeds: "Here is the Steeple"
This is a very compelling painting. It intrigued me because the technique in the sky is noticeably different from the technique used in the building. Besides that, the technique in the sky is about half the painting. Generally, it is best to avoid paintings that are half one thing and half another. However, in this case it works really well.
Second Place:
Christine Kassow: "Empty"
I responded to the feeling in this painting. That feeling or mood is a product of the subject, as well as the unifying cool color. ~ Doug Dawson
Third Place:
Matthew Peake: "Overlook #30"
The figures are massed with the dark rectangles and each of these masses is uniquely different in size and contour. This creates compelling variety. ~ Doug Dawson
Cape Cod Pastel Society Award:
Judy Albright: "Open to Everything"
I like the simple direct strokes and the way the artist exploited the surface quality of the board. ~ Doug Dawson
Mallory Lake Memorial Award:
Kathrena Ravenhorst-Adams: "Lace & Clover"
There is a great unpredictable edge separating the large blue and green shapes. Each of the small light flowers are uniquely different in size and contour, along with the negative shapes that separate them in an unpredictable manner. ~ Doug Dawson
=======================================================
Judging is not the same as critiquing. The comments above are the thoughts I had after I selected the winners. When judging a show, I simply try to respond to the work and select the pieces I like best. I try to understand my choices only after the fact. ~ Doug Dawson
Susannah Colby
---
News on the 2017 VPS Juried Exhibit at the Coolidge Hotel
Congratulations to the following members for being selected by a panel of jurors for the 2017 Vermont Pastel Society Exhibit at The Coolidge Hotel in White River Junction, Vermont. Thirty Paintings will be on display from September, 17th through December 28th with a reception on Friday, November 3rd from 5-7PM. We hope to see you there.
Judy Albright
Patti Braun
Margaret Brogan
Diane Bruns
Susannah Colby
Carol Corliss
Kathy Detzer
Carol Eberlein
Cindy Griffith
Lesley Heathcote
Cristine Kossow
Anne Leeds
Pat Mcpike
Matthew Peake
Kathrena Ravenhorst-Adams
Norma Rollet
Michael Shafer
Maggie F. Smith
Carol Stephens
Katrina Thorstensen
Ann Wickham
Kindly,
Susannah Colby
Exhibitions – Vermont Pastel Society
2017 Annual Member's Exhibition at Southern Vermont Art Center
On behalf of the Vermont Pastel Society I want to thank all the artists who made Members Exhibition at the Southern Vermont Art Center a success. Thank you to the staff at SVAC who once again provided an amazing space for our exhibition. There were several members in attendance at the reception on May 28th and three board members awarded prizes in nine nontraditional categories. A big thank you to Robert Carsten who took the time to carefully judge the show and award each artist. The show has over 40 paintings representing several landscapes, still life and portraits and will be on display through
July 8th
. Below are the comments from Robert Carsten for each category:
Vermont Pastel Society Members' Exhibition-Southern Vermont Arts Center
May-July 2017
I thank all of the participating members of VPS for the privilege of judging the members exhibition. This exhibit is filled to the brim with beautiful examples of what can be achieved today with our amazing, ages-old painting medium we proudly call pastel!
— Judge of Awards, Robert Carsten, PSA-mp, IAPS-mc
Results:
Most Luminous Landscape:
Maggie Smith, The View Across the Lake
Judge's comment:
The suffusion of atmospheric light superbly handled by this artist, permeating all of the elements of the painting, resulting in an overall glowing effect. Hence, the masterfully handled atmospheric perspective creates luminosity throughout.
Most Fluid Waterscape:
Angela Arkway, Dorset Quarry, VT
Judge's comment:
My hat's off for how this artist skillfully portrayed the depth, surface, and especially the transparency of the water near the distant shoreline in this well-organized composition. Sensitive handling of color saturation and value contribute to the absolutely stunning effect of this land/waterscape. The paint quality, mood and subject combine to make this a truly sensational painting!
Most Lively Still Life:
Leslie Heathcote, Snowy Owl
Judge's comment:
While not a traditional still life, this painting contains the essential elements that define this genre: close-up object or objects against a background, generally compressing space. What won me over is the manner in which this artist depicted a white "object" without using much if any pure white. This convincingly realistic representation is a lesson on color temperature in both the lights and darkened background.
Most Figuratively Speaking:
Matthew Peake, Overlook #31 Saguaro with Dance
Judge's comment:
The unusual bird's eye view, limited palette organized around the hue of its central object/subject, as well as the positioning and postures of the figure create a mysterious narrative, open to the viewer's interpretation. Astute planning and competence are evident throughout.
Going Gaga with Color:
Judy Greenwald, Solitude
Judge's comment:
Here is a painting that deftly shows daring color that is refined and utilized to create an overall unified, coloristic effect. Everywhere the color changes and the transitions are seamless. The balance of light effect and sensational color is exemplary.
The Yin and Yang of Light and Dark
Deedee Jones, After the Storm
Judge's comment:
I love the way the artist used a quantity of dark values in order to establish a convincingly glowing quality to the sunlight and sky in this painting. The diagonals of land and clouds in the design lead me into compositional depth to the luminous sun and its reflection – superbly painted!
Seriously, Do a Series:
Pat McPike, Sunrise on the Seine
Judge's comment:
I find that there is a poetic quality to this image, a tonal quality that is very appealing. The elements that comprise the composition are painted in a distilled, more universal manner, the artist taking care not to overly depict any detail. I think that this imagery, even if derived from diverse locals, would comprise a stunning collection in series.
Tell Me More Award:
Kathrena Ravenhorst Adams, Summer Barns
Judge's comment:
This is a lovely composition, quite well-painted. The artist has a good understanding of composition and the use of tone to move the eye throughout the composition. I believe that this artist would further benefit from expert critique services, hence this award. Sometimes those opinions offered can provide insights that allow an artist to move forward; to transition from good painting to great painting.
I'm Being Framed:
Susannah Colby, Stormy Night
Judge's comment:
I love the sense of activity and movement in the clouds and reflected in the water — all in contrast with the stillness of the foreground's beach and boats. Additionally, the artist creates great depth by use of a strong diagonal which is masterfully counterpointed by restful horizontals and near vertical elements of masts. Personally, as a juror and artist, I feel that strongly colored mats are not beneficial in public displays. Some shows and galleries advisee against their use, preferring white or off-white matting so as relate better to other works on display. For this reason, I am awarding this finelydone painting the framing award for a future work.
Sincerely, Susannah Colby
susannahcolbyfineart@gmail.com