What can you submit to our Noteworthy News?
Guidelines:  Noteworthy news about VPS members can be submitted for things such as exhibits, awards, special commendations, etc.  This page is not for promoting artist business or merchandise.  Submit noteworthy news to the webmaster ([email protected]), in the following format:
-Artist name and town:
-Art exhibit name, date, hours and location:
-Title of accepted or awarded art:
-Juror comments, if any:
-Attach jpeg image of painting if available:
-News will be posted monthly.
---
Let it Snow Poster

---
VPS 2022
Juried Show
Be sure to visit the exhibit at Vermont Artisan Designs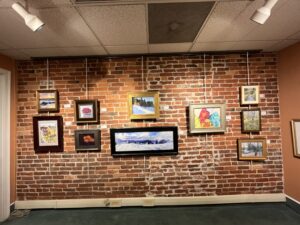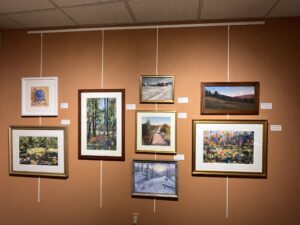 ---
---
VPS Southwest Region Exhibit Opens May 29, 2022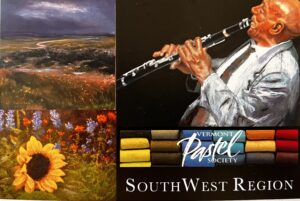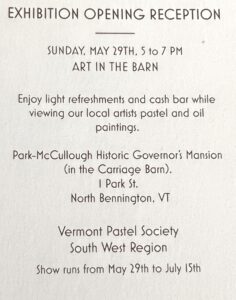 ---
VPS Central Art Exhibit Opens May 17, 2022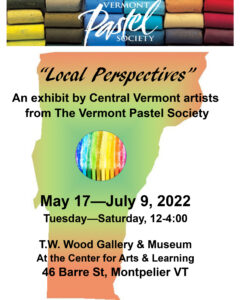 ---
Judy Greenwald Shares Story of Sales Success
Judy recently shared her story of sales success in an email exchange with VPS President Matthew Peake. Together, Judy and Matt agreed it's a story worth sharing.
Judy's Story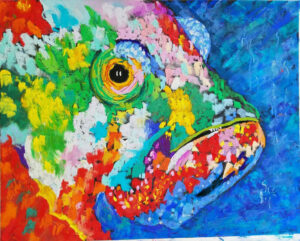 Hi Matthew, I don't imagine you know me specifically, but I am a member of the Central Hub.  I am 88 years old and have shown my work for several years at Artisans Gallery in Waitsfield. I recently had a show at Cafe Espresso in Barre.  It's an old Vermont type coffee shop …and I emphasize old!!!!  I had previously only showed my work in galleries and high end shows which take huge chunks of sales as commissions.  I had not expected anything from this showing and only did it as a favor for a friend. I sold 11 paintings and 15 prints. My work usually sells from $795 to $995. I priced the 36 paintings at those prices minus the usual 40% commissions and the prints remained the same at $50. These were just ordinary people having coffee…not art collectors per se. I had some good publicity…all the local papers and Seven Days, but I understand people just oohed and aahed at all my colorful landscapes, fish and animal paintings.
I think there is a lesson here for all members….and I'm just sending this to you as an idea for a discussion at some meetings.  I do not want to be an example or speak to this point at any meetings as I am very laid back and do not seek any notoriety. I just think our artists should not be afraid to show at venues other than galleries, etc.  After all we are all seeking sales.  Happy New Year, Judy Greenwald
Matt's Response
Judy, we must've met, but I have to confess sometimes I forget faces. But I know your work and I love your story. You are totally correct, that it isn't only a gallery that will sell your work with their staff, but your work itself will sell in places where people can see it and I guess that's the mission—to put it out there in front of people and the artwork will speak for itself. Just like you found. Congratulations and thank you for letting me know about this. I would really consider getting it to John Landy so he could post your experience on our VPS website in the noteworthy news section that we talk about in the newsletter. Happy new year and thanks again. Matt
---
Wendy Soliday (VPS Central) Joins the Member Gallery
Congratulations and thank you to Wendy who became the latest member to participate in the Member Gallery.   Click here to read Wendy's story and view her wonderful artwork.
---
Matthew Peake Wins Bill Creevy Pastel Innovator Award
Matthew was informed he won the Bill Creevy Pastel Innovator Award at the 3rd Annual Make Your Mark! International Online Open Exhibition sponsored by the Pastel Society of Southern California for his painting BlueYellowGreen. This was a special surprise because the same painting was accepted by three jurors into the 2021 Red Rock Pastel Society of Nevada Juried Member Exhibition in May 2021.
He was sent a letter of congratulations, but then a day later the president of that pastel society threw it out because it wasn't what she thought a pastel painting should be. Matt commented "I feel now that at least some pastel judge appreciates innovation in pastel painting!"
(August 2021)
---
Cindy Griffith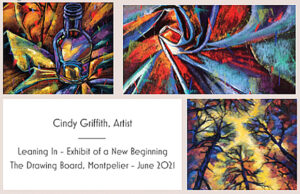 As a Vermont Pastel Society CV Hub Event, we did an art challenge of creating an abstract painting. A spark became a passion over the past months and has taken me from realism to abstract-like paintings. For the very first time, my new body of work will be on display to the public at The Drawing Board, (https://www.drawingboardvt.com/) 22 Main Street, Montpelier, VT. This exhibit of all new work is called Leaning In, which describes the transition my art has taken and my strong feeling of leaning in to the change. The exhibit will be at The Drawing Board throughout the month of June. In addition, Montpelier Art Walk will be June 4th. Would love a big showing for my new art pieces and a technique I am leaning in to.
---
VPS Members Show – Southern Vermont Art Center
Have you checked out the April 2021 VPS Members Show at the Southern Vermont Arts Center?  Visit the Exhibition Page for complete details and the Award Winners!
---
---
VPS Reaches Out to IAPS Regarding Hubs
In 2017, the Vermont Pastel Society (VPS), took its 100-member roster, divided it up geographically, and assigned each member-artist to an area called a Regional Hub. We found that our membership naturally clustered into six areas, and each region selected a point person or point-people to help the Regional Hub plan for and facilitate activities.
Our goal was to provide our member artists with the richest community experience possible by promoting member involvement and participation in local art-related happenings, networking opportunities, and art-making endeavors. Before the coronavirus pandemic, hubs were meeting every month to every three months and doing a wide range of activities together, such as plein air painting, critique sessions, and putting on local shows. Many hubs were offering challenges to their members, asking them, for example, to do an abstract painting, to paint a green painting without using green pastels, to do a self-portrait, and so on, and then getting together to show everyone what had been discovered in the process.
When the coronavirus came to VT in March 2020, hubs by-and-large stopped meeting, One of the six hubs continued to meet remotely every month via zoom. Recently another hub began zoom meetings and a third hub is planning to do the same.