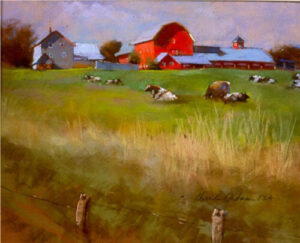 LANDSCAPE PAINTING WITH ALINE ORDMAN
MAY 3-5, 2024 (Three Day Workshop)
9-5 Friday, Saturday
9-4  Sunday
First Congregational Church
39 Main St., Essex Junction, VT
COST:  $425 MEMBERS.  $475 NON-MEMBERS

Please let us know if you are a member or non-member when you sign up.
SIGN UP CONTACT: Lisa Kent: [email protected]
The primary focus of this workshop is painting landscapes in pastel. Two of the three days will be in the studio, and, weather permitting, one day will be plein air. Although the subject matter will be landscapes, adding a figure to the landscape will be introduced for those students who are interested.
Working from their own photo references in the studio, students will transform them into pastel paintings using the principles of color, value and design. Along with daily painting demonstrations, Aline will emphasize the understanding of color in terms of temperature, intensity and value using pastel techniques. Individual attention and group critiques will serve to help students in their efforts.
VPS members are receiving this notification first.  It will be released to the public in two weeks. Sign up is on a first come basis.
VPS has a scholarship program available. Members of VPS for more than a year are eligible.  A VPS Workshop Scholarship Application Form must be filled out ASAP in order to apply it to this workshop.  Full payment still needs to be made.  Scholarship funds will be received after the workshop is over. You can get the form online:  https://vermontpastelsociety.com/vps-workshop-scholarship-application-form/.
When you have signed up, you will need to send a 50% deposit immediately. Please mail your check made payable to the Vermont Pastel Society to Lisa Kent, 255 Frogs End, Shelburne, VT 05482.
•      Cancellation Policy: To reserve a space a 50% deposit is required immediately.  Full payment is due 60 days prior to the workshop.  No refunds will be given within 60 days of the workshop unless we are able to fill your space. Once a workshop is wait-listed full payment is required no matter the date. Cancellation requests must be in writing. 
•      In the case of low enrollment or if the workshop needs to be cancelled due to unforeseen situations, VPS will refund 100% of the fee.  Workshops will run based on adequate enrollment.
•      Please note that we will determine whether a workshop will run approximately 30 days prior to the start date unless the contract with the artist states otherwise. Please make your travel plans accordingly.
•      Exceptions will be made by discretion of the VPS Workshop Chair and/or VPS Board for a death in the family of an immediate relative or a personal emergency medical situation.
ALINE ORDMAN
http://alineordmanartwork.blogspot.com
Aline received her BFA at Cornell University, and continued her training at the Academy of Art College in San Francisco, earning a degree in Illustration.
"My goal as an artist is to find those times and places where beauty is not only evident, but startling and suddenly present."
Aline is a Master Pastelist with the Pastel Society of America, a Signature Member of the American Impressionist Society, a signature member of the Oil Painters of America and an Eminent Pastelist with the International Association of Pastel Societies (IAPS). She has juried the Pastel Society of America's National Juried show; The Pastel Journal's Top 100 Animal and Wildlife Competition, the Pastel Society of New Mexico's Annual Juried Show and the Adirondack Plein Air Festival Awards.
She was featured in an article in the February issue of the Pastel Journal and she has been honored with awards at the 33rd and 34thand 38th Annual Juried Shows of the Pastel Society of America in New York City. Aline has won awards several times in the Top 100 Pastels issues of the Pastel Journal. Her work has been accepted in national juried shows of the American Impressionist Society, The Pastel Society of America and the Oil Painters of America. Aline teaches workshops throughout the country and in Europe. She is represented by Camden Falls Gallery in Camden, Maine; Blue Heron Gallery in Wellfleet, MA; Brickhouse Gallery, VT; Little Gallery in Mackinac, MI. 
Her blog is:http://alineordmanartwork.blogspot.com