Vermont Pastel Society Newsletter-January 2017
We spend our lives in the love and cultivation of sensations, relishing our emotions, searching for their clearest expression, and taking pleasure in exclaiming them to others. Robert Henri
IT'S A NEW YEAR AND THERE ARE NEW LOOKS FOR OUR VPS
We are starting out 2017 with a couple of brand new features for the VPS: one you can see right now—the new VPS website—and the other will be appearing as the year unfolds—VPS Regional Hubs.
Many of you at the annual meeting were introduced to our new website by Cindy Griffiths, our new Webmaster, and some of you have been there to check it out and/or have already sent in digital images of paintings for the site. Please frequent it often, as it will serve as one source of
communication. And if you haven't sent in an image or two, please do so by going to the site, clicking on the "About" menu across the top in the purple, then clicking on the drop down entry "Policies and Procedures."
As for the Regional Hubs proposal, keep reading!
CALENDAR OF UPCOMING EVENTS:
We have two great workshops upcoming:
Desmond O'Hagan June 28-30, 2017 in North Bennington, VT
Doug Dawson September 15-17, 2017 in Newfane, VT
Stay tuned for details from Grace Cothalis and/or Maggie Smith as the time approaches.
We will be having two VPS exhibits this year:
Members' Exhibition May 27-June 8, 2017 in Manchester, VT
Juried Show September 14-December 27, 2017 in WRJ, VT
Our new Exhibitions chair, Susannah Colby, will be sending out notices so pay attention both to emails from our new Membership chair, Maggie Smith, and to the VPS website.
VPS REGIONAL HUBS PROPOSAL
We all have joined the VPS for one or more reasons. It may have been for access to workshops, opportunities to exhibit our work, having a web presence, etc. but right up there with any or all of those reasons is the opportunity to associate with other artists who share a love of pastels and to provide us with the opportunity to learn from each other—and teach each other—as we enjoy each other's work.
As artists, we, by and large, work alone. The times we can get together, during workshops or shows, for example, are few and far between. Geography and the relatively low density of artists limits our ability to associate with each other, and to achieve that sense of community that comes with becoming part of a society.
Using the experience of the Vermont Watercolor Association, we have developed a proposal for regional hubs for our own VPS. The Vermont Pastel Society mission statement calls for us to build and strengthen connections among pastelists, to foster artistic development, and to promote public appreciation of pastels as a fine art medium. With those goals in mind, we have taken the membership roster, divided it up by ZIP Code, and assigned each member one of eight regions in which to belong. Our hope is that, by having a cadre of local artists congregating periodically, the feeling of being part of a pastel society will be realized.
Over the coming year, we will introduce different portions of our proposal, lay out the regions, and meet with regional hub members to help begin the process of activating their regional hub.
If you have any questions as we begin this process, and especially if you would like to help with the development of this exciting proposal, please get in touch with Matt Peake at [email protected]
VPS ANNUAL MEETING NOVEMBER 6, 2016 IN WRJ, VT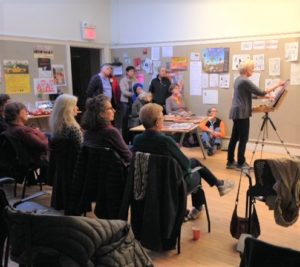 We had a wonderful meeting a couple months ago at the Center for Cartoon Studies in WRJ, highlighted by a presentation by photographer, Kent Scrivener, and a pastel painting of the figure demo by Aline Ordman. Please go to the website, search (upper right) for "Minutes" or go to the the About tab, then down to VPS Meeting Minutes to read it.
THANK YOU FOR YOUR PARTICIPATION IN THE VPS!
We're looking forward to a thrilling ride this new year, so hang on to your easels, papers, and pastels!
Matt Peake,
VPS President